Batteries Delcotrons Heated Windshield Heavy Duty Horns Ignition Magnequench MISAR Missile Battery Propulsion Systems for Electric Vehicles Regulators Shock Absorbers Starters Switches

Products
Horns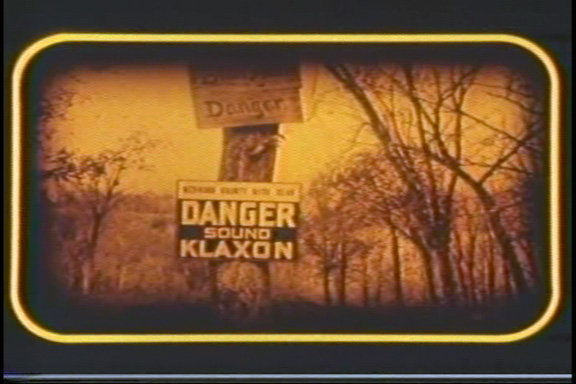 Delco-Remy got into the horn business in 1924 with the purchase of the Klaxon Horn Company in Newark, NJ. It had been determined that Remy could build the horn at a lower cost than Klaxon and the manufacturing equipment was moved from New York to the third floor of Plant One, where horn manufacture remained until 1946 when it moved to Plant 7. The manufacture of horns remained there until it moved to Plant 10 in the 1980's. This was its last location until the product line was sold in the late 1990's.
When the windows were open during the summers when the horns were in Plant One (This before the the Plant was air conditioned and sound booths were used to capture the sound. Link to 1940 Anderson Library Photo) one could hear the horns being blown during test within a radius of several blocks of the plant. Below is a progression of the design evolution of Delco-Remy horns which were on all GM cars and light duty trucks from 1924 until the late 1990's..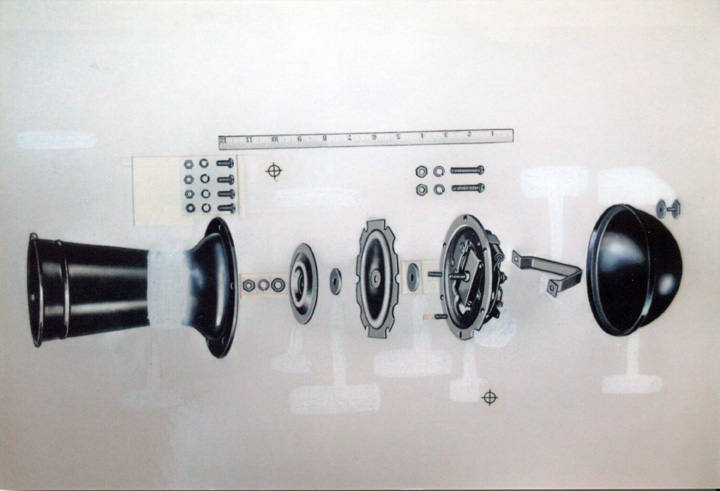 The Klaxon Horn. A Klaxon type horn uses a motor-driven toothed wheel which ratchets against a metal stud attached to a diaphragm. Later horns would remove the motor and have the diaphragm activated by magnetic field from a coil of magnet wire. Cost of a Klaxon horn was $3.50. Photo courtesy of Ted Vinson / Madison County Historical Society.
Link to YouTube Delco-Remy KLAXON 8C Ahooga Horn
Link to YouTube Delco Remy Klaxon 6 Volt Horn Model 8C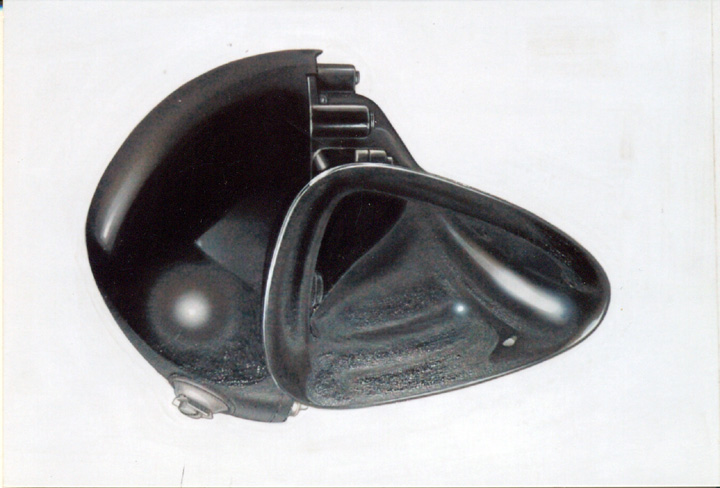 This was known as a Sea Shell Horn and replaced the Klaxon design. Even after the Klaxon design was replaced the term "Klaxon" was still used to mean an automotive horn. Photo courtesy of Ted Vinson / Madison County Historical Society.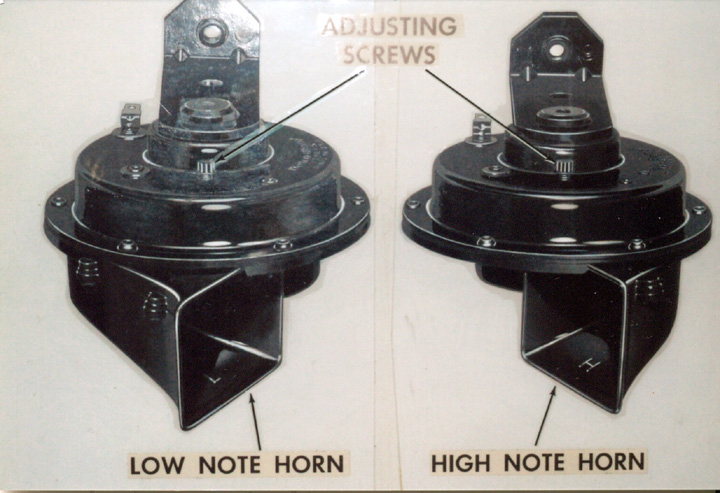 Aluminum Die cast Horns were next in the series. Later one there were five horn notes that were manufactured. Photo courtesy of Ted Vinson / Madison County Historical Society.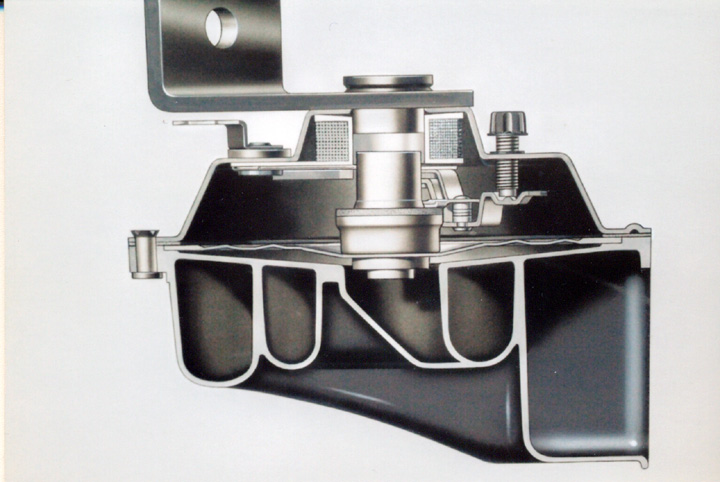 Cross section of a die cast horn. Photo courtesy of Ted Vinson / Madison County Historical Society.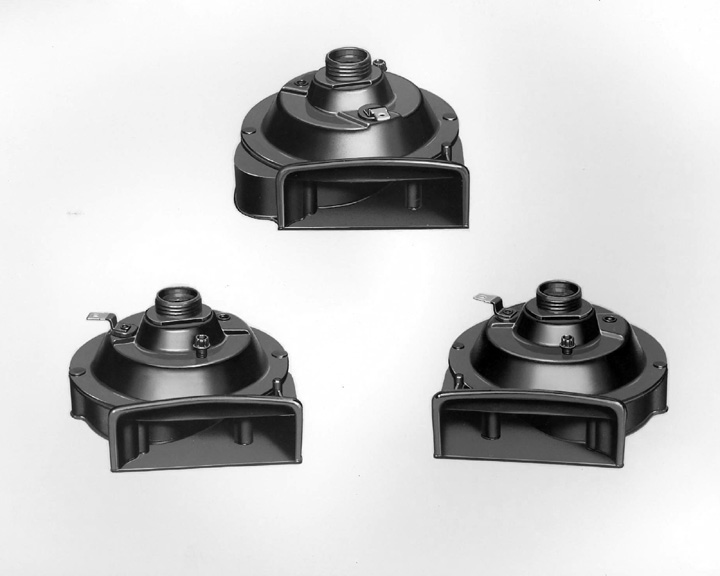 Plastic Horns that were introduced in 1974 and resulted in four new production lines in Plant 7. The projector was plastic while the back shell and back plate were stamped steel. Gene Phillips.
While there were only five notes that horns produced there were literally hundreds of horn brackets for mounting the horns to vehicle as every GM vehicle had its own unique location for the horn or horns causing a proliferation of part numbers. Horns were also typically the last component that were found room for under the hood during the vehicle design resulting many times with them being placed down very low in the engine bay. This would increase warranty claims as water and salt would get into the horn, corrode it and cause it to fail. If relocated to a higher location the problem would go away or be reduced. In any location under the hood the horn would be oriented with the projector opening down to allow for drainage of moisture.
The last series of horns were produced in five musical notes which could be used individually or in combination to give a musical chord. Below are 1978 GM horn applications. Note that GMC or Chevy trucks are not included below although they had DR horns also. The Alarm Tone produced a piercing sound as part of the Corvette Anti-Theft System.
Lo-Tone "F Note"
Hi-Tone "A Note"
Deep-Tone "D Note"
Penetone "High C Note"
Alarm Tone "High F Note"
Buick
Buick (except Skylark)
Buick (optional on Electra, LeSabre, Riviera)
Buick (optional on Electra, LeSabre, Riviera)
Cadillac
Cadillac Seville (all others optional)
Cadillac (except Seville)
Cadillac Seville (optional for all others)
Chevrolet (except Corvette, Chevette)
Chevrolet Chevette, Camaro, Nova, Malibu, Corvette, Monte Carlo
Chevrolet Caprice
Chevrolet Corvette
Chevrolet Corvette (optional on Van)
Oldsmobile
Oldsmobile Cutlass, Omega
Oldsmobile98, 88 Toronado
Pontiac
Pontiac (except Sunbird)
(standard LeMans)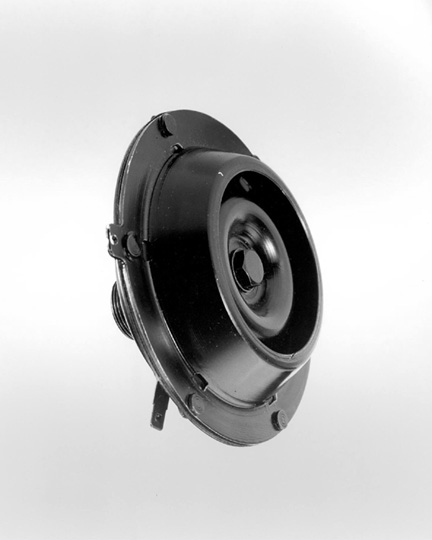 Proposed Electronic Horn that never went into production. Gene Phillips photo.