Batteries Delcotrons Heated Windshield Heavy Duty Horns Ignition Magnequench MISAR Missile Battery Propulsion Systems for Electric Vehicles Regulators Shock Absorbers Starters Switches

Products
Batteries
Information on Batteries supplied by Doug Grinstead.

This was not only first battery built in Muncie but also the first one built by Delco-Remy. It could have been built in Anderson on the location of Plant 8 if the citizens of Anderson would have been more willing.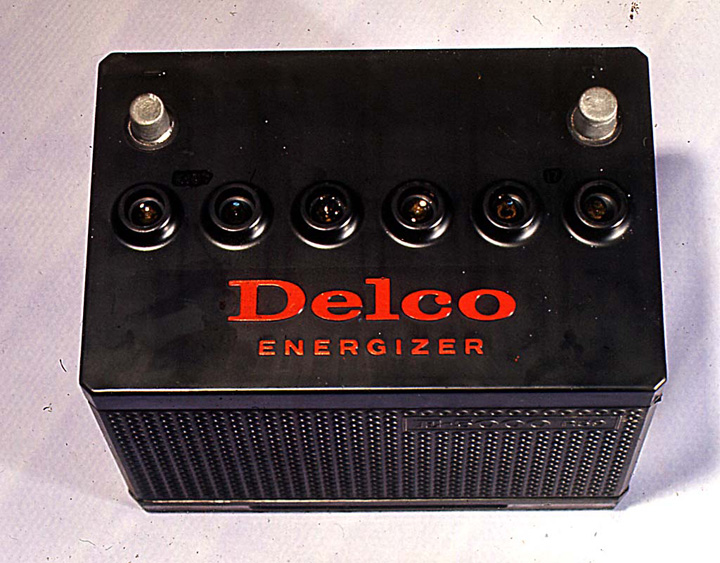 The Delco Energizer Battery introduced 1966 was the first to replace rubber battery cases with plastic cases and one piece top covers. Also included in the new design are through the wall cell connectors and the Delco Eye for determining battery charge state. The battery had 16% more power than previous designs.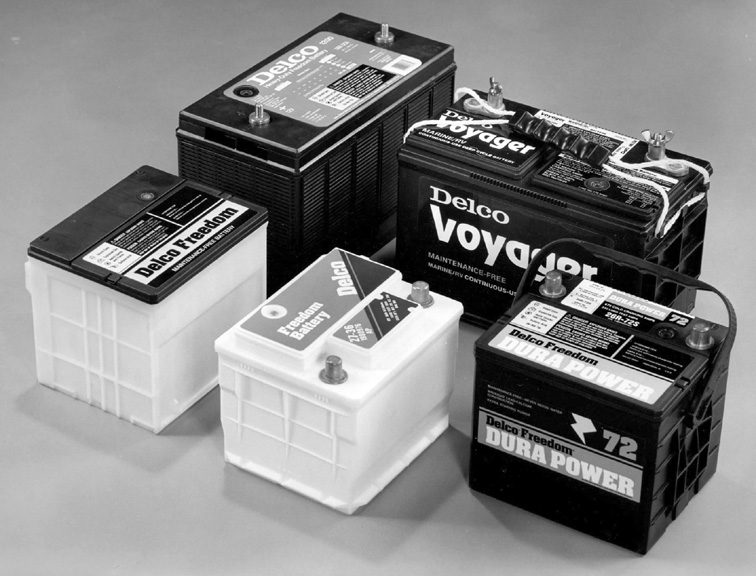 This photo shows a collection of maintenance-free (MF) batteries manufactured at DR. Clockwise starting with the 12:00 position is an example of our MF HD battery for semi-tractor trailers and other HD applications. Next is a Delco Voyager for marine (or RV) applications that require a long reserve capacity to run trolling motors, etc. Next is an aftermarket replacement battery for automotive use. The 72 represented the number of months the battery was warranted for. The handle was added for easy carrying and installation. The next battery is a replacement battery for European nameplate autos. The next battery is the original equipment side terminal battery for GM autos. Gene Phillips photo.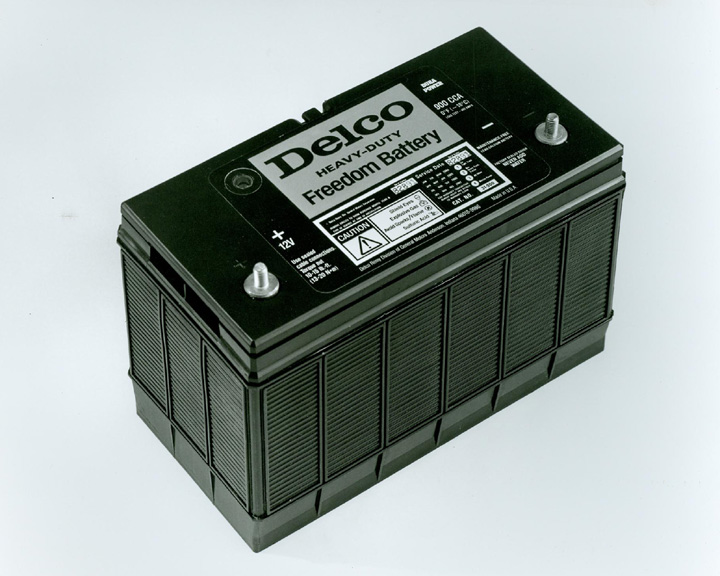 This shows another example of our very successful HD MF battery for over the road semi-tractor trailers, bulldozers and other construction equipment. Gene Phillips photo.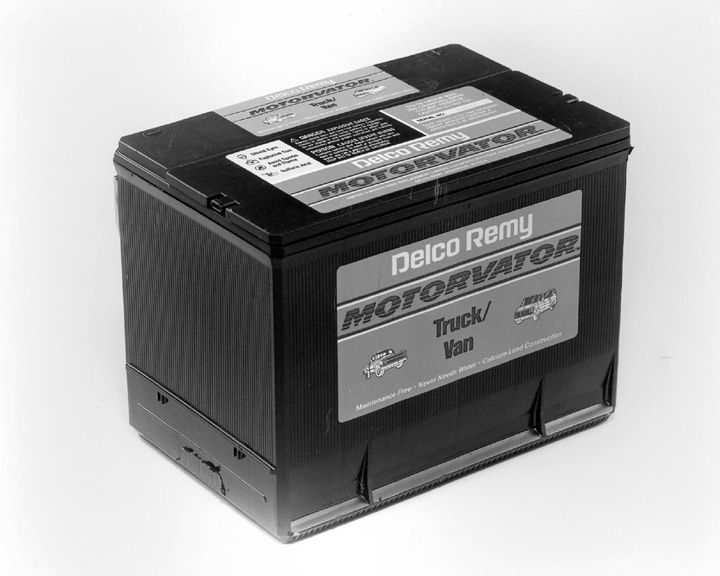 This aftermarket battery brand was targeted for trucks and vans. The label is interesting in showing the DR brand. Most of our aftermarket batteries were marketed under the Delco Freedom brand. Gene Phillips photo.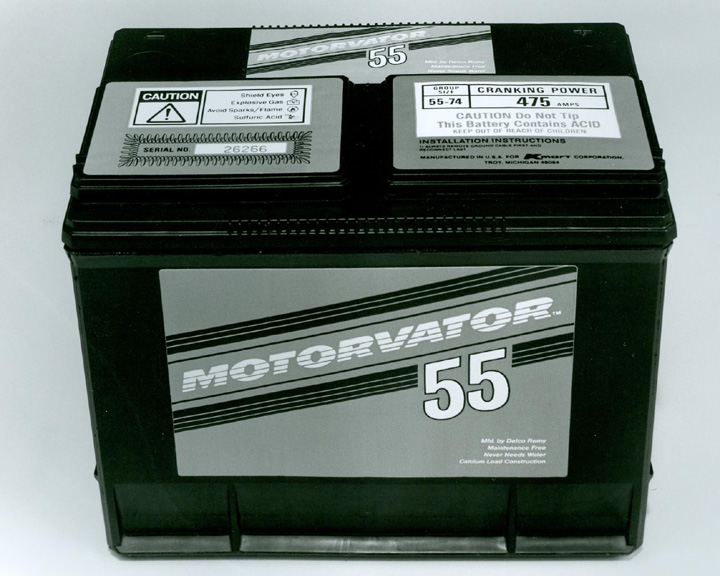 This battery is a low-cost aftermarket brand. The 55 represents the BCI (Battery Congress International, an industry organization) group size that was supposed to be common across all manufacturers. Gene Phillips photo.

This photo highlights some of the design features that distinguished the DR battery from our competitors. Gene Phillips photo.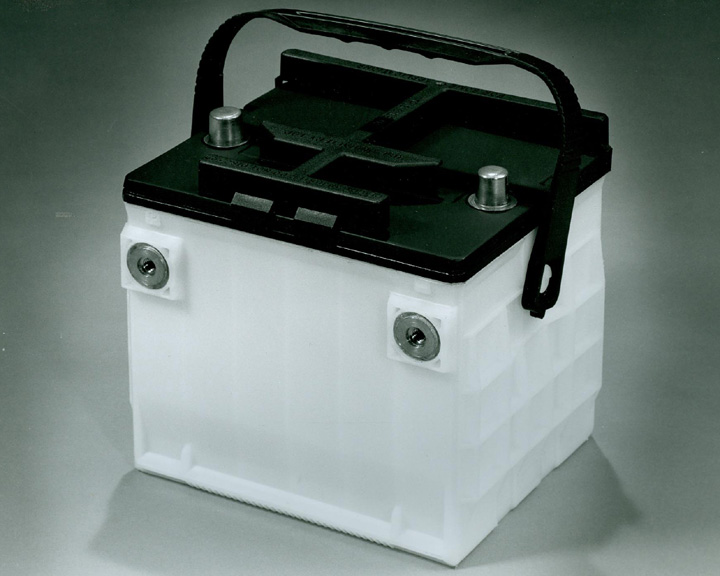 This photo shows an unlabeled aftermarket dual terminal battery with a handle to make it easy to carry and install. The detachable adapter on the top cover could be used as a spacer underneath the battery if required for a better fit. This battery was designed and marketed as an almost universal fit for any vehicle. Gene Phillips photo.