Links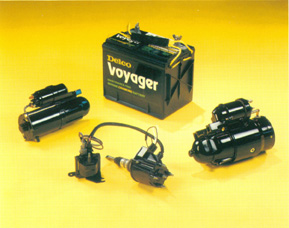 Morris Bean & Company -

Former Delco-Remy Antioch Foundry during WWII

Yellow Springs, OH Business History - Bottom Paragraph gives background of Antioch Foundry
Advanced Magnesium Alloys Corporation (AMACOR) - Current Plant 19 owner
Neo Materials Technology - Current owner of Magnequench
Computerized 3D DR Plant Simulations - Current project being carried out by Brian Mulcahy
Guide Lamp Div of GMC History - By Charles W Bullock (The plants shown in the black and white photo were the former Delco-Remy Arvac buildings used to make cranking motors and also headlights.)
Electrovair - Electric Concept Car using a Corvair

Abstract of SAE Paper 670175

- Results of Electrovair project

Energy International, LLC - GM Hybrid History and Delco-Remy's involvement
Delco-Light Plants - Before the Rural Electrification of the US there were DC Delco-Light systems available. This was a GM Division in Dayton, OH until 1947. Also see our Allied Division page for more information.
Delco-Remy Service Bulletin - 1G-150 G Type DC Generators
Brief History of some of the GM Component Divisions - The DR portion is not entirely correct as the author gets the AC-Delco service parts division confused with Delco-Remy
1936 Video of Pontiac Car Assembly - During the engine drop at 4:30 note the DR DC generator. You can see the DR tag on it.
YouTube Video - This is a 1950's era Delco Battery commercial featuring the Delco Battery in US Air Force Ground Control Radar use
YouTube Video - This undated video would appear to be of 1926-27vintage as Plant 6, built in 1926 is complete but Plant 8 is not yet built. If one stops the video at 4 seconds it is also evident that the Plant 1 addition along Columbus Avenue, completed in 1929 is also absent. This video gives an excellent look a the production of Klaxon horns, DC Generators and Distributors.
YouTube Video - Gary Price "Delco Remy Assembly Line Eight Hour Blues" Yes, the DR Blues are gone but so are the well paying jobs they provided.
YouTube Video - Voice over video of the Delco-Remy "Regulation and Charging Circuit Booklet".
Madison County Historical Society - Home county of Anderson, IN and the former Delco-Remy Division of GM.

gh Performance Ignition Systems -

By John Spears
Delco-Remy Battery Commercial - This circa 1958 commercial features a Douglas C-124 Globemaster. The Delco battery is shown at the two and ten second minute mark. It is the battery for a military forklift truck. Also notable is the can of Delco-Remy battery acid which is being added to the battery.
Be sure to visit my Warbirds and Airshows and US Automobile Industry in WWII websites!