Delco-Remy in WWII DR WWII Aircraft Products DR WWII Marine Equipment DR WWII Tank Products DR WWII Vehicle Products DR WWII King's Mill Plant DR WWII Anitoch Foundry
Delco-Remy in World War Two
LST 393 and Delco-Remy

This page added 1-14-2017.

One of most important but overlooked and forgotten ships of World War Two was the Landing Ship, Tank, or LST. They were not a glamorous ship or designed for fighting. They were not very good looking and ungainly looking. But they were so important to the success of the D-Day landings at Normandy on June 6, 1944 that the Supreme Commander of Operation Overlord, General Dwight D. Eisenhower, delayed the landings one month so there would be more LST available. LSTs were cargo ships that could land on a beach, open their bow doors allowing tanks and trucks to move directly on to the beach. Due the fact there no ports available to offload the huge amount of men and material needed to sustain the D-Day operations, LSTs were extremely important to the success of the landings.
LST 393 was one of 1052 built during WWII and one of 233 that served at Normandy. LST 393 landed at Omaha Beach on June 7, 1944. This was the first of 30 trips she made to Omaha Beach delivering troops, vehicles and supplies. On return trips to England she carried POWs and wounded soldiers. On her first return trip from Normandy she took on 1,135 causalities. During WWII LST delivered 9,000 American soldiers and 3,248 vehicles to the combat beaches. She took on 5,000 prisoners of war and 10,000 wounded American soldiers. She traveled 51,817 miles and landed on foreign shores 75 times. During all of these trips Delco-Remy cranking motors started her twin Electo-Motive Diesel Engines. One starter may have been with her for the entire war and since then. See below for details.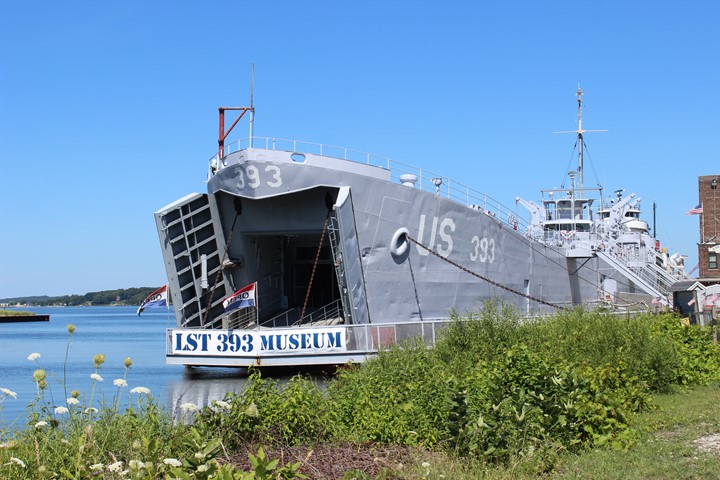 Upon beaching itself, the LST 393 could land its cargo of tanks, halftrack, armored cars, trucks, jeeps and troops directly to the landing beach No port was needed to get heavy equipment and supplies to the landing location during the early stages of an invasion. Once the beaches were secured by the infantry in the initial landings, LSTs would be the next priority to arrive at the beachhead. Author's photo.

LST 393 along the bay at Muskegon, MI. Author's photo.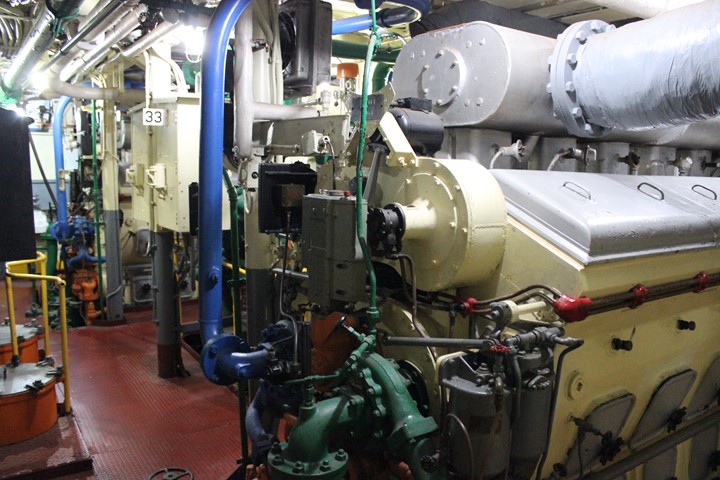 There are only two LSTs on display in the United States. LST 325 in Evansville, IN is an operating ship and consequently the engine room is not available for tours. Because LST 393 is not an operating ship, its engine room is. This allows visitors to see her twin Electo-Motive 900 hp diesel engines. Looking in the door to the engine room, the first engine can be seen from the doorway and the second one is back by the second blue pipe. Author's photo.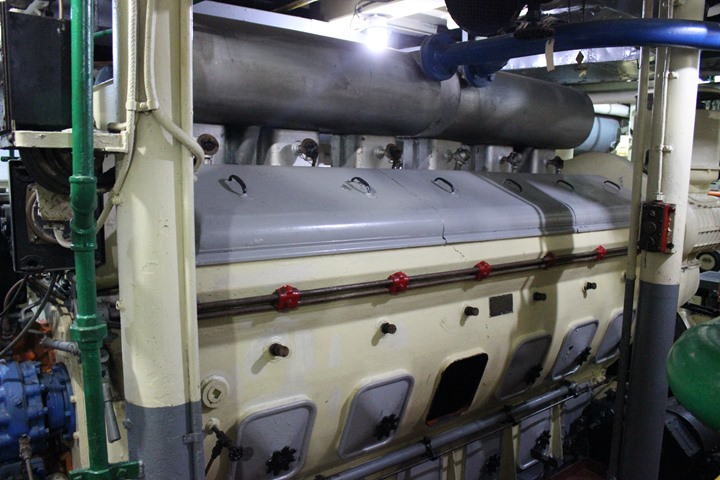 This is the second engine on the far side of the engine room. Author's photo.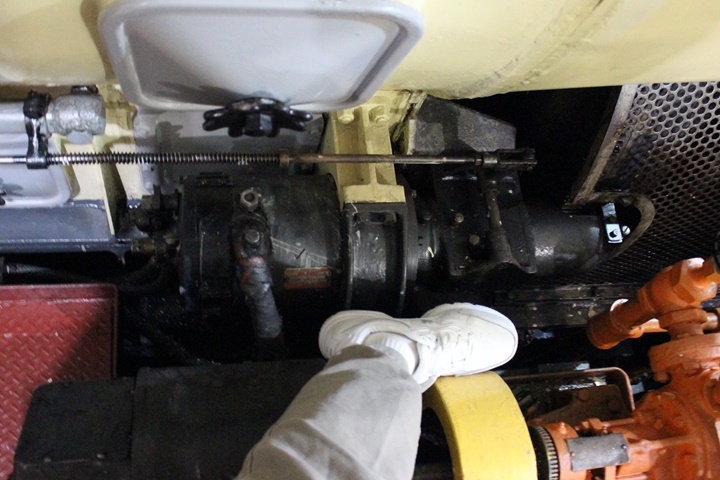 Now this is a Delco-Remy cranking motor!!! Note the size of the motor compared to the author's size 9-1/2 shoe. It took this size of a craning motor so start the Electro-Motive 900 hp diesel engine. This is the largest DR cranking motor the author has ever seen. Author's photo.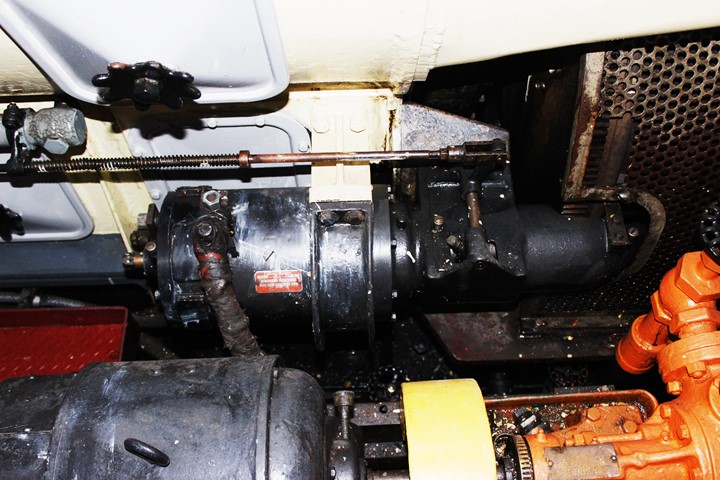 The Delco-Remy ID Tag shows this was Serial Number 182 and was built on September 4, 1942. This 64 volt starter pulled 800 amps to produce 32.5 hp. LST 393 was launched on November 11, 1942 and the EMD engine was built on October 20, 1942. Could it be this Delco-Remy heavy duty starter is the one originally installed on the engine and in LST 393? If so, DR Serial Number 182 was at Omaha Beach at Normandy 30 times. Thirty times it would have started the starboard side engine when it came off the beach. Author's photo.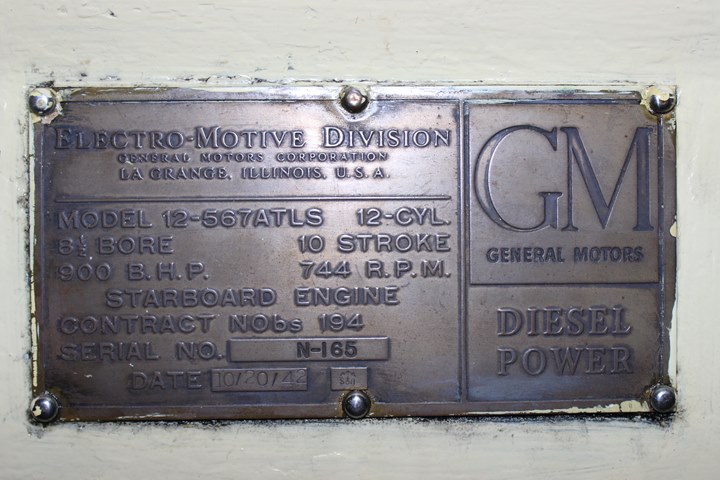 Author's photo.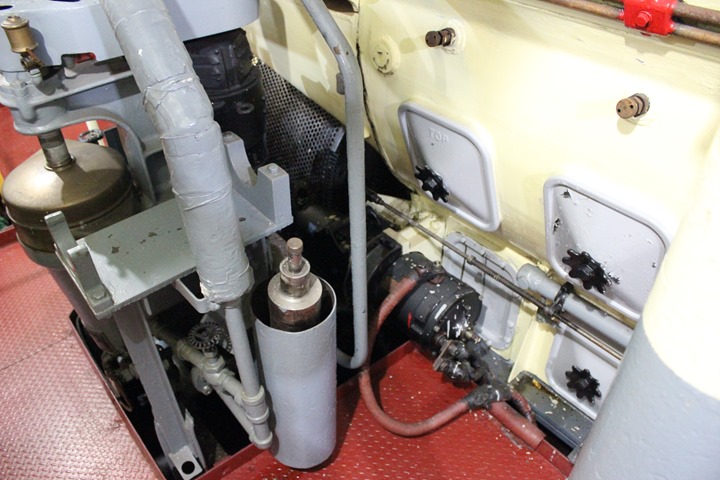 This is the starter on the port side engine and the one nearest the entry way. Note the size of the electrical cable. Author's photo.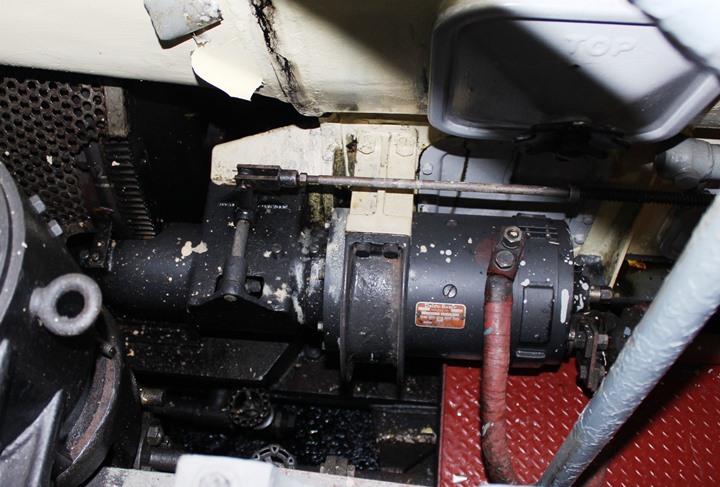 Author's photo.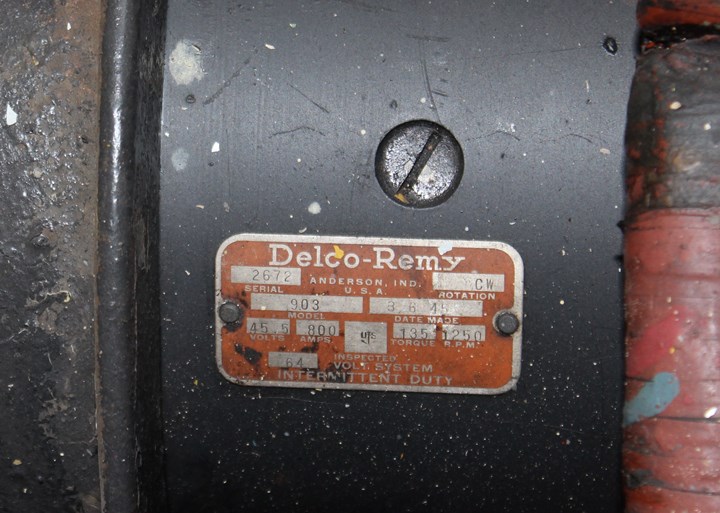 Author's photo.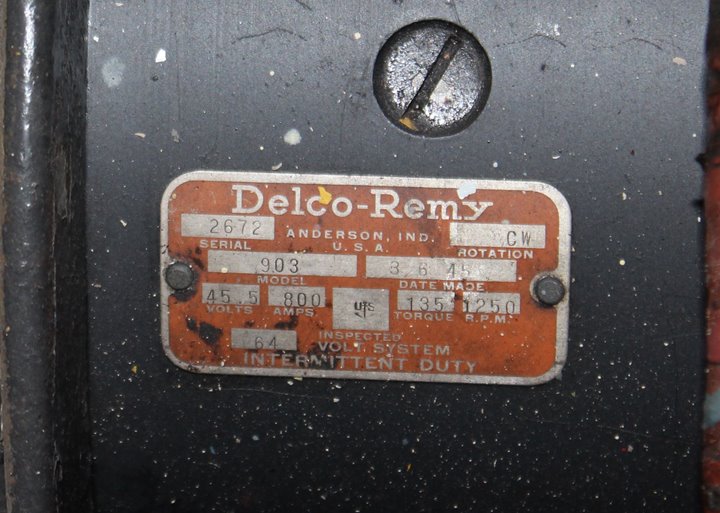 This is a model a Model 903 as it is for the port engine and mounts on the opposite side of the engine as the previous starter. Both have CW rotations. This cranking motor is a replacement as it was built on March 6, 1945. It is Serial Number 2672. Author's photo.
During WWII 1,052 LSTs were built. Half of them had the EMD diesel engines as shown above. With two engines per installation Delco-Remy supplied at least 1,052 starters for the ships. It is unknown whether DR starters were used on the non EMD engines.
Delco-Remy in WWII DR WWII Aircraft Products DR WWII Marine Equipment DR WWII Tank Products DR WWII Vehicle Products DR WWII King's Mill Plant DR WWII Anitoch Foundry