Delco-Remy in WWII DR WWII Aircraft Products DR WWII Marine Equipment DR WWII Vehicle Products DR and LST-393 DR WWII Kings Mills Plant DR WWII Anitoch Foundry
Delco-Remy in World War Two
World War Two Products and Product Applications
Components for Tanks and Other Armored Vehicles

This page added 1-14-2017.
Delco-Remy Tank and Tracked Armored Vehicle Equipment in World War Two: Sixteen models of generators, 16 models of regulators, 16 models of starting motors, 6 models of ignition distributors, 8 models of ignition coils, 7 models of storage batteries, and 3 electrical apparatus boxes for tanks and armored vehicles.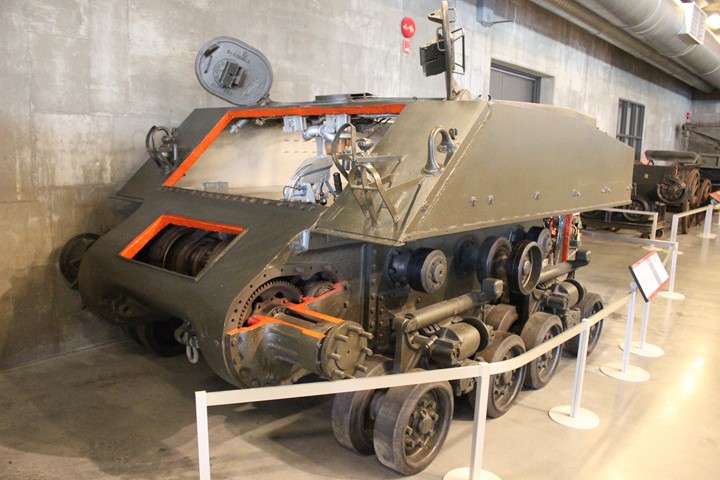 It may be hard to tell, but this is a cut-away of a Sherman tank. This is a Fisher Body built M4A2 on display at the Canadian War Museum in Ottawa, Ontario. It is serial number 65001 and was built in March 1945 in Grand Blanc, MI. Being a cut-away, this display allows one to see several Delco-Remy built components that were used on the Sherman tank. Author's photo.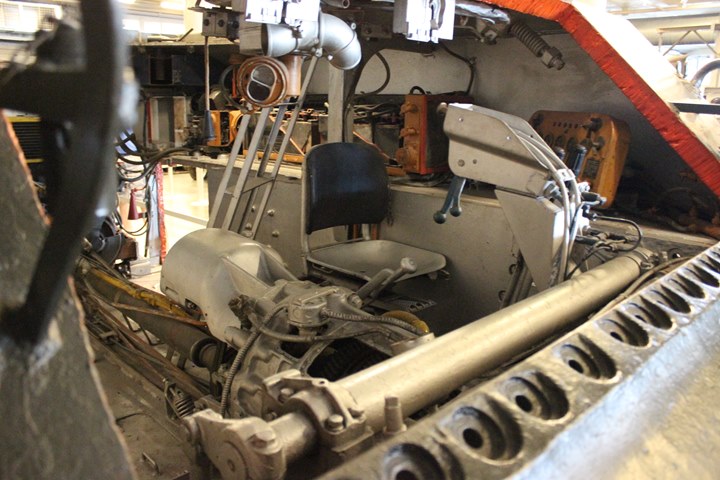 Looking in there is an orange box next to the driver's seat. This is an apparatus box built by DR. Author's photo.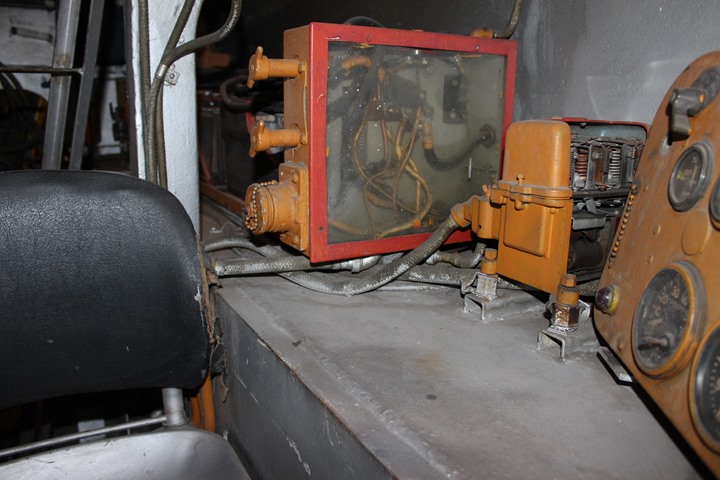 The second box to the right of the apparatus box appears to the Delco-Remy voltage regulator. Author's photo.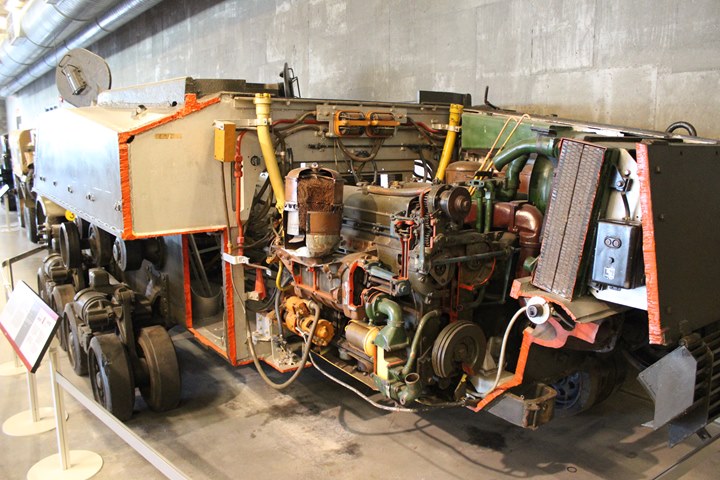 In the engine bay two Delco-Remy components can be found. Author's photo.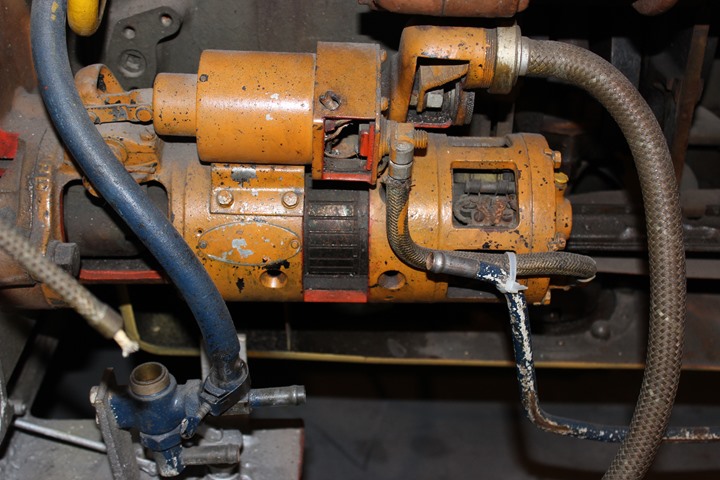 The first is the DR cranking motor. There were two DR cranking motors for the Sherman tank model M4A2. It was powered by two Detroit Diesel 6-71 engines. Author's photo.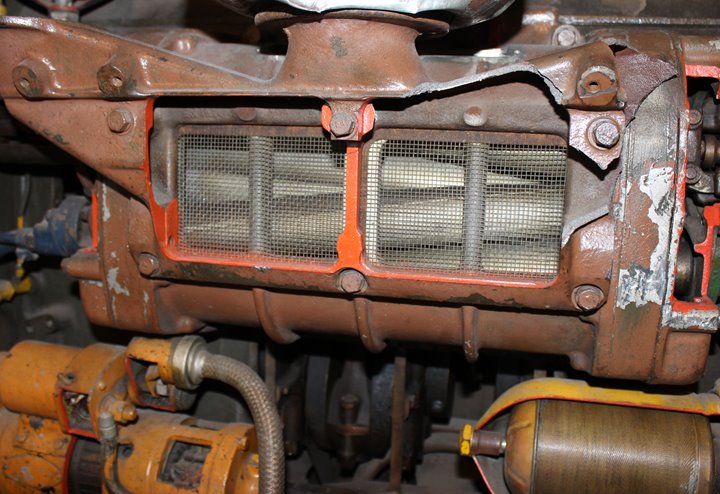 This cut-away is unique in that it shows the Delco-Remy Plant Five built internal rotors. Author's photo.
The table below summarizes the number of tanks built during WWII with Detroit Diesel Division of GM engines, which would have been equipped with Delco-Remy starters, DC generators, and voltage regulators. The 21,530 diesel powered tanks and tank destroyers were powered by 43,060 6-71 engines, each using a Remy starter, generator, and voltage regulator. Plant 5 also cast pistons for Detroit Diesel, and they were used in the tank and tank destroyer engines.
Detroit Diesel Engine World War Two Tank Applications

Armored Vehicle
Number built
Type Engine
Engines per tank
Total Engines
6-71 Engines per tank
Total 6-71 Engines
Comments
British and Canadian Valentine
3,981
6-71
1
3,981
1
3,981
M3 Grant/Lee
913
6046
1
913
2
1,826
The 6046 was two 6-71 engine blocks working together as on power plant,
M4A2 Sherman Tank
10,968
6046
1
10,968
2
21,936
This was about 20% of the total M4 Sherman production in WWII. Due to the fact the US Army preferred gasoline powered tanks that was the fuel it normally used in its vehicles. The Detroit Diesel powered M4A2 Shermans served either with the USMC, which had access to US Navy diesel fuel, or were sent overseas as part of Lend Lease.
M10 Tank Destroyer
4,993
6046
1
4,993
2
9,986
The M10 Tank Destroyer was a US Automobile Industry product being built by the GM Fisher Body Division at Grand Blanc, MI.
Totals
20,855
20,855
37,729
This does not include any spares.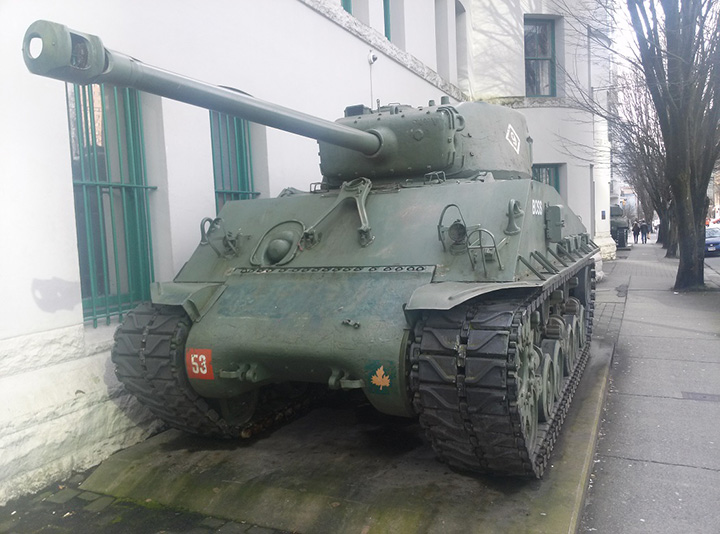 Six companies built 10,968 M4A2 Sherman tanks, each powered by two Detroit Diesel 6-71 engines married together and designated as the 6046 engine. Each 6046 had two Delco-Remy starters, generators, and regulators which totaled 21,936 each. This photo was taken in Vancouver, BC and is courtesy of David Jackson, Jr.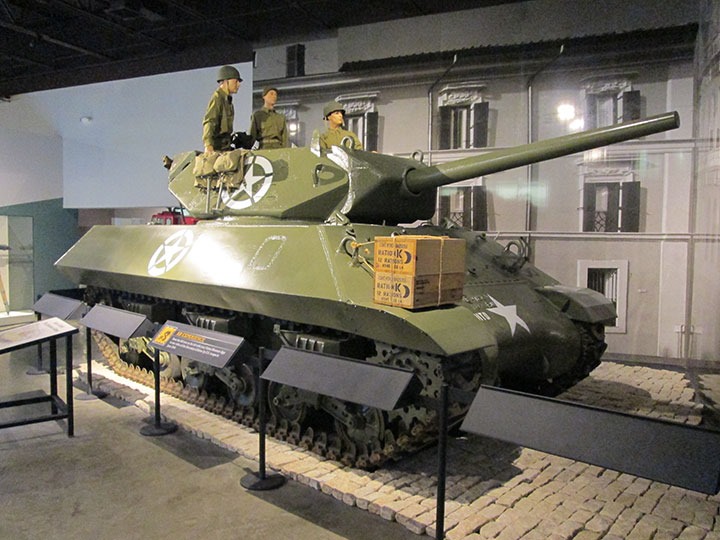 The Fisher Body Tank Arsenal built 5,368 M10 Wolverine tank destroyers with the Detroit Diesel 6046 engine. Delco-Remy supplied 10,736 starters, generators, and regulators for the M10. Author's photo from the Patton Museum.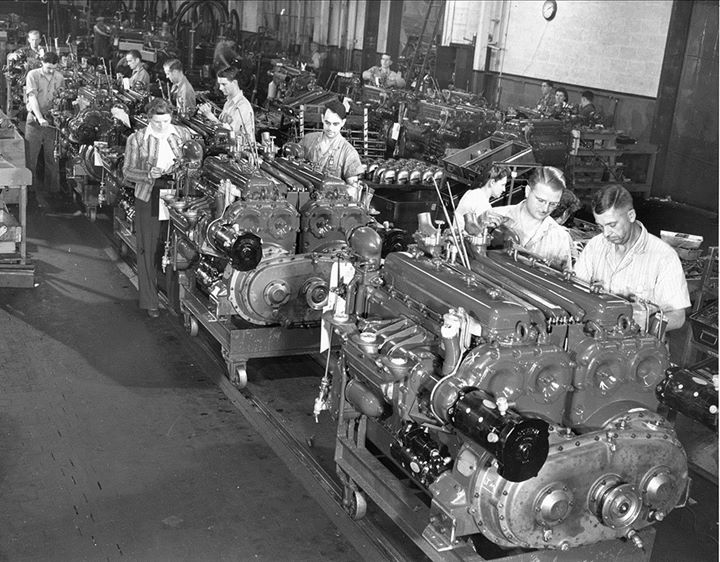 These 6046 engines are traveling down the Detroit Diesel assembly line. One Delco-Remy starter and two DC generators can be seen on the seen on the first engine. The DR tags can also be seen on all three units.

The Landing Vehicle, Tracked(3) or LVT(3) was produced by Borg-Warner in Kalamazoo, MI, and was powered by two Cadillac V-8 engines equipped with Delco-Remy regulators, generators, ignition and starters. Author's photo.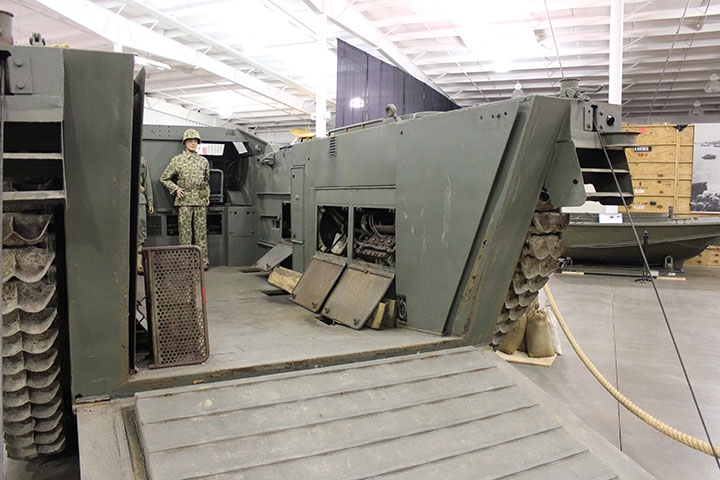 Looking into the LVT(3) from the open rear of the vehicle, the Cadillac engine and Hydro-Matic transmission can be seen in the opening on the starboard side sponson. Borg-Warner built 2,962 of the landing vehicles and Delco-Remy supplied 5,924 engine electrical sets. Author's photo.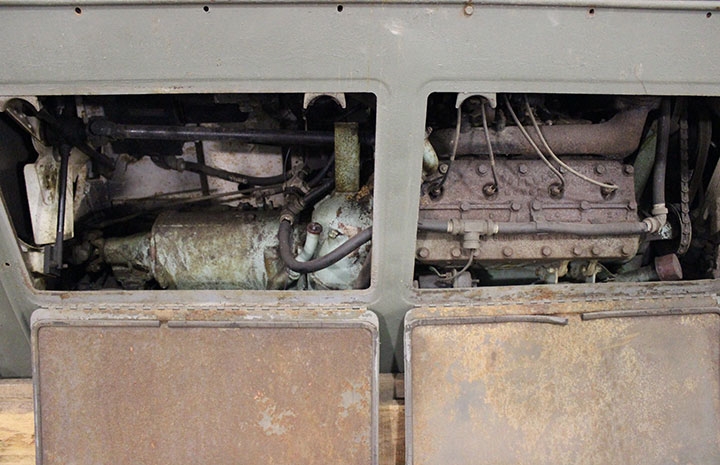 Author's photo.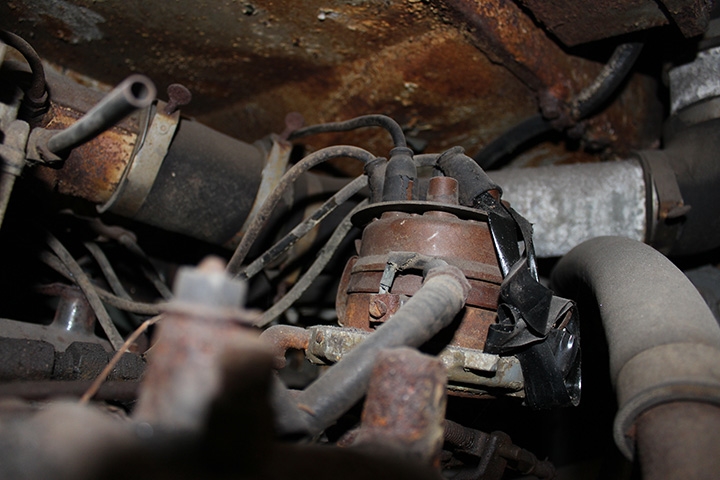 The Delco-Remy distributor is visible. Author's photo.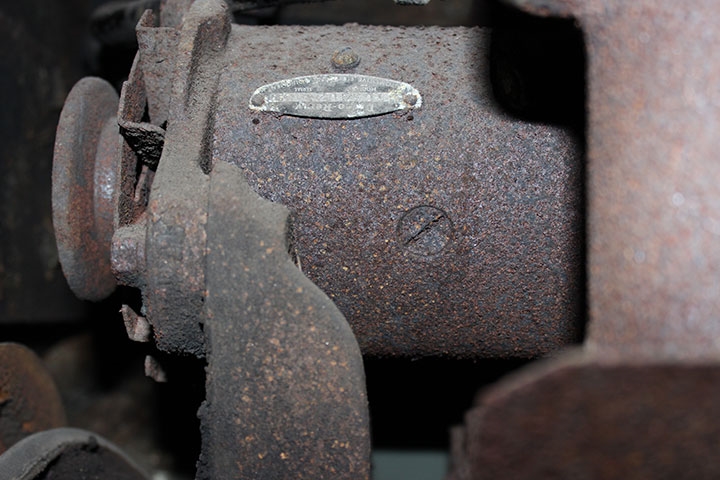 A very rusted out Delco-Remy DC generator is visible. Author's photo.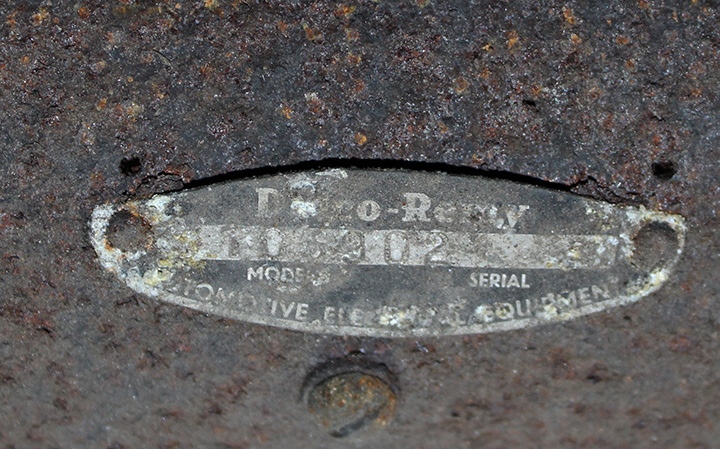 Author's photo.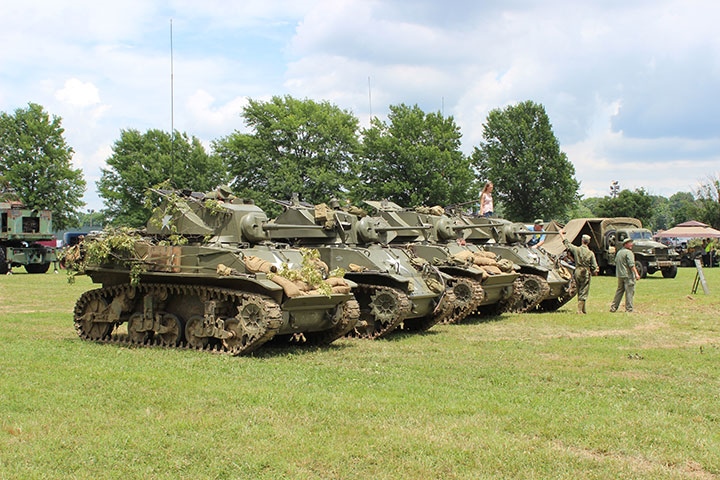 Cadillac, Massey-Harris, and American Car and Foundry manufactured 8,884 M5 and M5A1 Stuart tanks, built with two Cadillac V-8 engines. Delco-Remy furnished 17,768 sets of generators, starters, ignition coils, ignition distributors, and regulators for the tanks. Author's photo.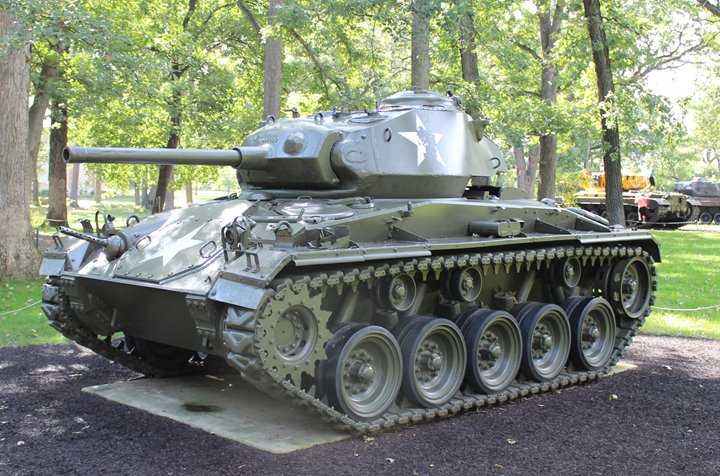 Cadillac and Massey-Harris also built 4,361 M24 light tanks, also with the twin Cadillac V-8 engines. All of the 8,722 electrical engine components were supplied by Delco-Remy. Author's photo from the First Division Museum in Wheaton, IL.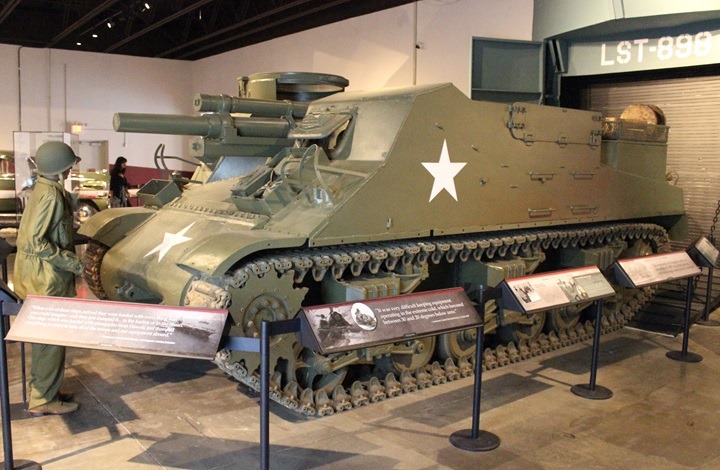 This M7 Priest 105mm Gun Carriage was one of 4,315 built that had Delco-Remy electrical equipment. Author's photo from the Patton Museum at Fort Knox, KY.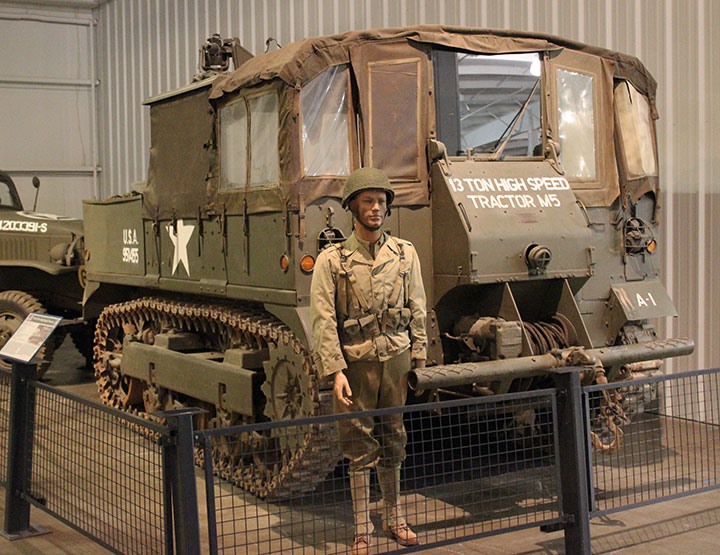 5,290 M5 13 ton tractors were equipped with Delco-Remy electrical components. The M5 tractors, used as artillery prime movers, were built by International Harvester. Author's photo.
Delco-Remy in WWII DR WWII Aircraft Products DR WWII Marine Equipment DR WWII Vehicle Products DR and LST-393 DR WWII Kings Mills Plant DR WWII Anitoch Foundry