United Motors Service Parts - Delco and Remy
1925
Return to Moments in Time Master Page
Up until 1926 the Dayton Electrical Laboratories Company (Delco) in Ohio and the Remy Electrical Company in Anderson, IN were direct competitors for automotive electrical products as part of United Motors Division within General Motors. In 1926 Remy was given all of this business by General Motors while it appears that that Delco Products formed from the remains of the electrical business in Dayton and became involved in the manufacture of shock absorbers and industrial size electrical motors. In any event, it must have been a real political battle over which location was going to get this very important and growing product line for General Motors. No doubt Remy came out on top because it had C.E. Wilson as General Manager who could be described as a "heavy hitter" in that he went on to become President of General Motors and later Secretary of Defense. Without his political prowess within General Motors Remy may have ceased to exist, or have been severely marginalized as a division after 1926. This is especially true in that Charles Kettering of Delco invented both the breaker point ignition and automotive self starter which became major product lines for Delco-Remy after 1926. The information below shows that the two divisions were almost identical in product lines. It should be noted that Remy was given responsibility for the Delco Plant in Dayton and began the manufacture of shock absorbers. Mr. Wilson left Remy in 1928 and in 1929 the shock absorber business was separated from Remy and became Delco Products.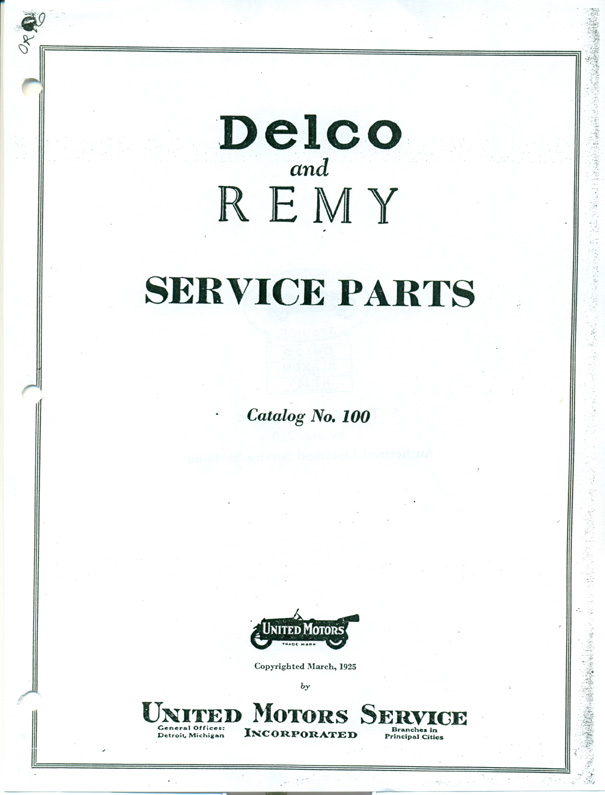 Note that this 1925 United Motors Service Catalog lists both Delco (Dayton Electrical Laboratories Company) and Remy service parts as two different entities. Both divisions of United Motors (Which was owned by General Motors since 1918.) produced competing automotive electrical products.
Below are comparisons of applications and ignition, generator and starters produced by each divisions. Both divisions had the same basic technology.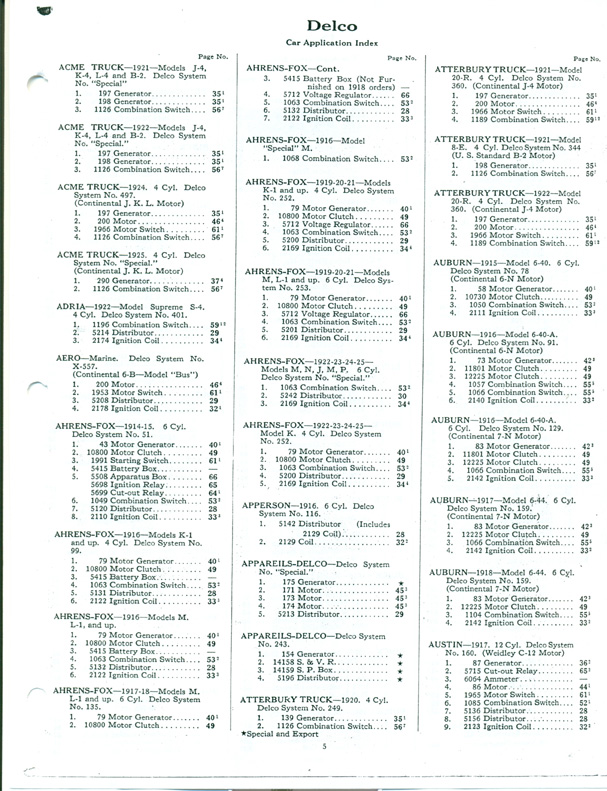 Above is the first of 20 pages car applications that Delco in Dayton had listed in the United Service Parts Catalog. Note that Delco has Motor Generators, Motor Clutches, Switches, Distributors, Ignition Coils, Generators, Relays, Regulators, Horns, Circuit Breakers, all of which would later be identified with Delco-Remy after 1926. 118 customers or OEM auto manufactures are listed as having applications from 1914 to 1925. Some of the names listed include Auburn, Austin, Buick, Cadillac, Case, Dusenberg, Dodge, Geronimo, Hudson, Liberty Aviation, Lincoln, Michigan Hearse, Nash, Oakland (later Pontiac), Oldsmobile, Packard, Pierce-Arrow, and Tow Motor.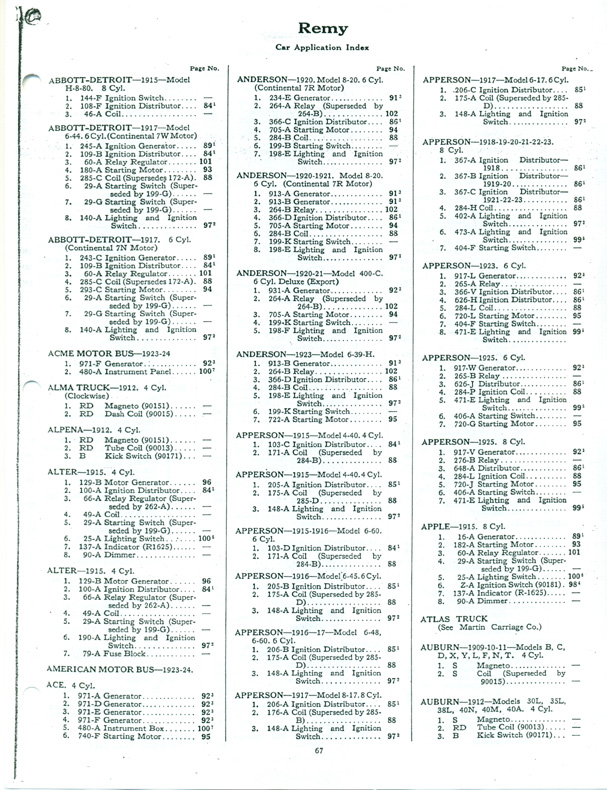 Above is the first page of 16 pages of Remy parts for OEM applications for service parts193 manufacturers reveals the same products as listed by Delco.. Nameplates include Auburn, Buick, J.I.Case Tractor, Chrysler, Chevrolet, Fisher, Flint Wagon, General Motors Truck, Harley-Davidson, Hupmobile, Interstate, Maxwell, Oakland (later Pontiac), Oldsmobile, Reo, Stanley Steamer and Studebaker.
Below are several pages of 39 that listed Delco Service Parts and several of the 18 that listed Remy Service Parts in the 1925 United Catalog.. The pages are in pairs for easy comparison.